Learn About Our Recent News and Updates
Newsletters
Our monthly newsletters are available here.
March 2020
APAT
The Association of Parent And Teachers is a group of interested and dedicated parents and staff. It is an open-ended and welcoming group that offers involvement in your child's nursery school through meetings, fund-raisers, speakers and group activities.
Scholarships
Are made available through private contributions and APAT fund-raisers. Full and partial scholarships are offered yearly. Applications are accepted in January and reviewed for the following school year.
---
799 Washington Road, Mt. Lebanon, PA 15228, 412.770.8095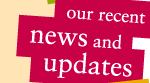 activities
enrolling